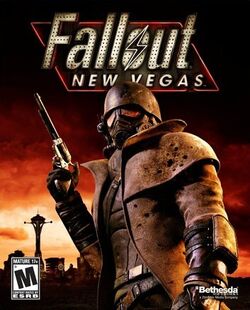 Fallout: New Vegas is a post-apocalyptic role playing game developed by Obsidian Entertainment and published by Bethesda Softworks.
The game is set in the year of 2281, 4 years after the events of the previous game, Fallout 3. The main setting is the Mojave Wasteland in Nevada, the Mojave Wasteland contains the main city of New Vegas.
The main character, named the Courier is contracted to deliver a Platinum chip to the city of New Vegas, but is intercepted in the town of Goodsprings by one of the Strip casino owners, where he shoots the Courier in the head and leaves him for dead in the Goodsprings graveyard. He/she is dug up by a friendly securitron robot, Victor, who takes him to the towns doctor when the Courier is revived and makes a miraculous recovery.
The Courier leaves Goodsprings in order to track down his assailant and in the process becomes in bridled in a major conflict which can change the fate of the entire Mojave wasteland and the city of New Vegas.
Dead Money
Honest Hearts
Old World Blues
Lonesome Road
Courier's Stash
Gun Runner's Arsenal