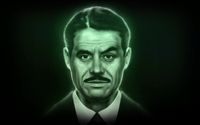 Mr. House is the self-proclaimed leader, CEO and the sole proprietor of the Strip within the city of New Vegas.
He is one of the 4 major factions that the Courier can side with during the events of Fallout: New Vegas.
Fallout: New Vegas Mr. House playthrough Edit
Notable Characters
Edit
---
The House Always Wins (I, II, III, IV, V, VI, VII, VIII)
All or Nothing
---
Notable Rewards
Edit
Lucky 38 Presidential suite
Bottle caps
---
Notable locations
Edit
Securitron vault
The Strip
El Dorado Substation
Hoover Dam
---
Strongholds
Edit
---
For further information pertaining to the background of this character, then please see this article at Nukapedia.